VGM has expanded yet again, we now host mods for Dragonball FighterZ
Visit fighterzmods.com
Hello all! Komodo here!
Our admin team have decided to post this change of etiquette here to make it known our revised stance in regards to uploading monetised links to this website.
As of today we have officially banned link sharing sites such as adf.ly and linkshrink from our downloads.
New mods will need to be uploaded directly, or linked either directly to a free download or to a free download page.
For example:
Mods linked to your Patreon page are banned.
However, mods linked to Patreon posts are fine as long as the file is available there for free, visible at first glance. No redirecting.
Mods linked to a YouTube page or video are banned regardless of whether or not there is a link available*
Links to paid commerce sites like Gumroad are also banned
*this doesn't mean that youtube videos cannot be embedded into your description or changelog, just that the download link cannot point to a video/channel
Failure to comply with these changes may result in a deletion of your mods without warning or a ban if necessary. (subject to moderator's opinion)
Our reasoning for this change in rules are as follows:
Firstly, there were a growing amount of users making "adf.ly chains" to profit multiple times off of one link. Additionaly, an argument could be made that users were profiting almost entirely off of Dimps/Bandai's work, which was never our intention here at xenoversemods as we aim to make free additional content to enhance the user experience of the game.
We hope you can understand and we are deeply sorry to any innocent content creators who are affected by this change.
We recommend you become a YouTube/Twitch partner to show off your work if you still wish to earn money. We also recommend adding optional donation links to your user profiles and mod descriptions. It is not essential, but we urge you update your links now to avoid any conflict down the line.
Hey everyone, Komodo here. This past week was one of the most hype weeks in the history of the Xenoverse series. We saw the release of DBXV2's Extra Pack 1 DLC. This pack is the largest to be released to date and includes 4 brand new characters to the roster. Tapion, Majin Buu (Gohan Absorbed), Android #13 and Majin Dabura, all of which were heavily requested characters fans deemed missing from the series. The update also included much more including a Pride Trooper outfit for CaCs, a brand new game mode and a re-balancing of the game's online mode.
Xenoverse 2 Update 04/12 – Jiren! Android 17?? pic.twitter.com/i1HKV2NNrE

— コモド Komodo (@komodoxeno) December 4, 2017
Here it is over Potential Unleashed pic.twitter.com/PWzhBSRhyP

— Syn (@SynnnX) December 5, 2017
Again, these could differ from release pic.twitter.com/J79mRxCdpi

— Syn (@SynnnX) December 5, 2017

Our data-mining efforts proved very successful this time, since we were able to find far more new content than any previous leaks. Among that content (found by myself, Zankye and SynnX within minutes of the release) included the following:
Jiren (original character, from Dragon Ball Super)
Android #17 (in his Dragon Ball Super outfit)
Fu (the son of Mira and Towa)*
Super Saiyan Blue awoken skill for CaC
The entire Xenoverse 1 story mode
All of the missing characters and forms from Xenoverse 1
* presumably, we don't know for sure that this is the same Fu, but there is a ton of evidence.
Who is Fu? And why is he important?
Not sure if I've ever translated their bios in full before. Oh well, here you go: pic.twitter.com/HUUABWp4e9

— Todd Blankenship (@Herms98) December 13, 2017

The leaked news as reported first by Rhymestyle:



(videos by Rhymestyle)
Shortly after this a scan was revealed seemingly confirming the existence of a new demon realm villain. His name isn't pictured from what I can tell, but it fits in well with our theory. This scan also shows two new costumes for Goku and Mr. Satan, and it seems to be describing a new "partner customisation" feature which will allow us to change some costumes and skills for our masters in game.
Infinite History Pack '18: Introducing "Fu" as Demon Hipster John Lennon pic.twitter.com/CXKFc5MXrx

— コモド Komodo (@komodoxeno) December 13, 2017


(video by Rhymestyle)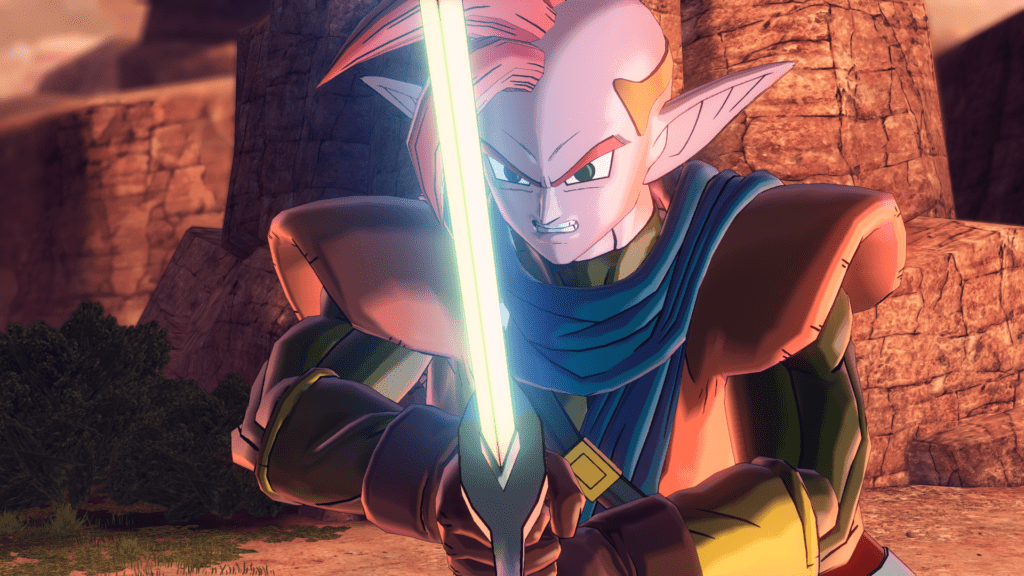 As some of you may have noticed, over the past few weeks there has been a new section for mods entitled "CAC section". This was implemented due to overwhelming demand from users who fall under this growing niche of mod creators and also people who avoid this type of modification. The split is designed to act as a portal for people who like to upload/download these kinds of mods to do so without any further harassment from commentors, and for the people who have a problem with these kinds of mods can browse the site without finding only this content. In theory, stick to your section and everybody wins.
However, this feature has been completely misused by nearly everyone on both sides due to our unintended lack of communication, and only seems to be getting worse with time. No matter what damage control measures we seem to be taking, people keep mislabelling and mixing up mods by ignoring this change, or seeing it as an opportunity to appear on both sections of the site, the latter of which, we can not tolerate.
So, in attempt to resolve this mess we've relabelled the categories with hints and added an upload agreement for modders to sign to ensure they do not make these mistakes, and also to remind them of our upload rules before they pull the trigger.
Guidelines involving category selection:
If your mod is a custom skill or a set/item of clothing, it does not belong in this section and will be removed if caught.
Similarly, if your mod is a player character with custom skills and clothing, it only belongs in this section.
The subcategories in Xenoverse 2 are strictly off-limits for CAC2X2M mods, as it is very misleading.
If you want your CAC's unqiue skills/outfits to appear in the Xenoverse 2 category, upload them as separate entities in this section.
People caught using false categories or multiple top-level categories will have their work removed from these categories or will not be accepted.
If your mod is a large pack that contains mostly new content and also some CAC mods, then feel free to post elsewhere.
Thanks for taking the time to read this post
– Xenoverse Mods Admin Team
Surprise update this morning! Komodo here, so we've gathered up everything available in the latest patch, some are attainable right now, while others require the season pass/DLC. For some reason there's still no official list of content for the new update, but we've done our best to make this as presentable as possible. In addition to the leaks below, I have since found confirmation that the 3 new characters; Bojack, Zamasu and Goku Black (Rosé) will all attain Towa's corrupted dark magic form in some form of future content.

via Rhymestyle
Corrupted Goku Black Rosé pic.twitter.com/7Ifg5oiOz4

— コモド Komodo (@komodoxeno) April 24, 2017
Howdy folks, Komodo here. As a lot of you were aware, Bandai Namco US invited some VIPs to join a DLC 3 stream this past Thursday. Because of this, we have some great previews of everyone's favourite new addition: Bojack.
As announced live, the official release date for the third paid DLC pack, "DB Super Pack 3" is the 25th of April 2017. More content will be announced in the coming days for the free update (which has been kept eerily quiet for some time) and quite possibly some details on the next wave of DLCs/Updates.
DLC 3 contents:
Bojack!
Zamasu
Goku Black (SS Rosé)
3 NEW Parallel Quests
4 NEW Skills
5 NEW Super Souls
2 NEW Emotes
Goku Black's Dark Gi and Future Mai's clothes were also confirmed as wearable outfits for player characters.

Via:  Rhymestyle
Stay tuned for more data-mined information on DLC4+ this coming Monday/Tuesday.

Via: DBZanto Z
Hello friends! A quick update here regarding the future of Dragon ball: Xenoverse and the most recent DLC content. The second DLC pack of Dragon Ball Xenoverse has been released (as of 28/02/17).  The contents of Dragon Ball Super Pack #2 include the following:
Two new playable characters: Champa and Vados

New story content: The history has been altered! The God of Destruction Champa approaches Conton City!

New stage: Unnamed Planet

8 new attacks: God of Destruction's Menace , God of Destruction's Roar, Destruction's Concerto: Comet, Destruction's Concerto: Starfall, Destruction's Concerto: Meteor, Destruction's Conductor, Requiem of Destruction and Sonic Bomb

Three new costumes: Android13's clothes , Android14's clothes, Fused 13's clothes

Five new Super Souls: Champa's Super Soul, Vados' Super Soul, Vegeta's Super Soul, Super Buu's Super Soul, Piccolo's Super Soul

One new vehicle: Space Pod

New emotes: Beerus's glare, Zen-Og Jump
In addition to this, the following features were added/changed in the most recent free update.
Zangya & Bido Costumes

Android 15's Clothes and Metal Cooler's Suit

2 New Expert Missions: Broly and Janemba

5 New Attacks: Jumping Energy Wave, Menacing Flare, Focus Flash, Wild Hunt and Tail Slicer

Character Tenkaichi: All players will have to fight with the same one character, such as "Goku Tenkaichi", "Yamcha Tenakichi" or "Pan Tenkaichi"

Group Tenkaichi: For example the "GT Cup" where players can only choose GT characters.

Tenkaichi Tournament Prize: Tournament Jersey
The trailer reveals the next pack, Dragon ball Super Pack #3 will feature the Future Trunks Arc. Further analysis of the game's files have confirmed Future Earth from this arc as a future DLC stage. We've also confirmed Bojack from the movie Bojack Unbound as a future playable character, as well his costume, which will be accessible in game as a hidden outfit, and can be attained as of now using MugenAttack's XV2lib tools.

Via: Rhymestyle
Yes, you read correctly.
Thanks to eternity installing a mod for your roster has never been easier. This tool aims to remove incompability between your favorite mods, so you can enjoy all of them without going through the lengthy process of manually setting them up yourself.
It comes with a mod creator module aswell, which will help modders  to deliver their creations in a simple package.
The tool is still being worked on, so make sure you always update to the latest version.

Get the tool here